News
Tooth Fairy Day at Oak Dental
Sadly the weather was bad but it didn't stop us! Tooth brushing instruction and the sugar shocker game proved very popular with the kids, who had to weigh out the amount of sugar they thought were in some common foods. One little boy even gave the Tooth Fairy his dummy which was really positive.
Staff Visit Leigh Beck Junior School
Staff at Oak Dental Canvey visited local school Leigh Beck Junior in conjunction with their human body assignment. Staff focused on diet and brushing techniques and all the children had a go at flossing. They played a sugar game with a spinning wheel and demonstrated what happens to teeth during the decaying process using Coke. 78 children were presented to all aged between 8 & 9 years old. The children genuinely enjoyed the session and were given a goodie bag and certificates.
Here's Ellis showing his appreciation!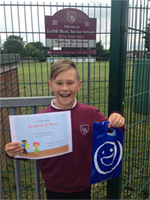 Staff Visit Little Lions Children's Centre
To raise awareness of Oral Health and healthy eating for both adults and children, staff visited Little Lions Children's Centre where most children are under 4 years old. Parents were given a talk about Oral Health and staff gave out fresh fruit and goodie bags to the children.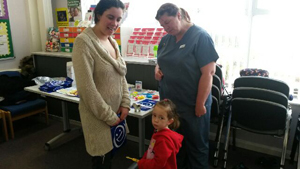 Annual Patient Satisfaction Survey
Thank you to all our patients that took part in our Annual Patient Satisfaction Survey during November 2015. Your feedback is really important to us as it helps us to improve our service.
We were very pleased to find that 98% of our patients would recommend us to friends and family.
Ask us how Clearstep Invisible Braces can work for you to give you a smile you can be proud sharing. Ask for an appointment with Devi.
Staff visited Canvey Infants School
All the children really enjoyed the crocodile puppet giving oral hygiene advice and goody bags we provided.
Whitening Tray Offer-Opalescence.go Was £124.99 now £50.00 while stocks last!
Our membership to the BDA Good Practice Scheme is rewarded for the 3rd year
New To Oak Dental Canvey! Oral Health Appointments for Kids
Fiona is our child friendly Oral Hygiene Instruction Nurse. Fiona has lots of fun educating the children about their Oral Hygiene
Inman Aligners
We are proud to introduce Inman aligners to our list of treatments offered here at Oak Dental Canvey Island. Patients wishing to enhance their smile should speak to their dentist about how they could benefit from Inman Aligner teeth alignment.
Hygienist Appointments
Hygienist sessions have been reduced from £45 to £35. Book your appointment today.
Special Offer
Teeth Whitening for £250 including one visit to see the hygienist. Hurry have a brighter whiter smile in time for Christmas.
Hygienist Services
Oak Dental Canvey Island is proud to welcome our new dental hygienist Lucy Grimsey. £45 per session. To book an appointment please call us now.
Refurbishments Underway
We are currently refurbishing our patient waiting room. We hope that you will be comfortable in your new waiting area.